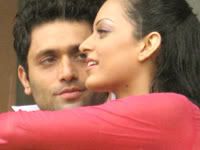 I saw the movie Woh Lamhe... and I liked it. Songs are too good and I have been listening to all the songs since a month and never felt bored - the words and the music - nice to hear. The direction and acting in the movie is awesome..its a story which does not end as all the hindi movies end (lived happily ever after)... I bet the movie will be liked by all and its gona be a hit. The main chatracter of the movie - Shiny Ahuja is going to be a big hit, his acting has been too good.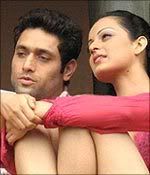 The movie shows to what extent a person can go to get the one whom he loves. Its all about love and care, where the lead character is trying to get his girlfriend's life back to normal. At the same time his girlfriend thinks that he is not true and suspects him. She is suffering from somekind of psychological disease where in she suspects that someone is trying to hurt her. She imagines seeing her old room-mate (who does not exist in reality) and claims that she is trying to hurt her. Even then he tries to convenience her in many ways and gets her back to normal for sometime by taking care and through proper medical treatment. After some days she stops taking medicines and lies to him that she is taking medicines. She goes back to the same state as earlier and dies. After watching the movie I felt so bad for what happened with them, and was thinking that such a thing should not happen to anyone - even to think of a such a story hurts.
I don't say that I don't like movies that have tragic ending, I have seen so many movies which have tragic endings; but this movie has made me think so many times about the story and I have always felt that it would have been so nice if the ending was good and they lived happily ever after...